Dyson air purifiers and filters
Clean and protect your environment with a Dyson air purifier.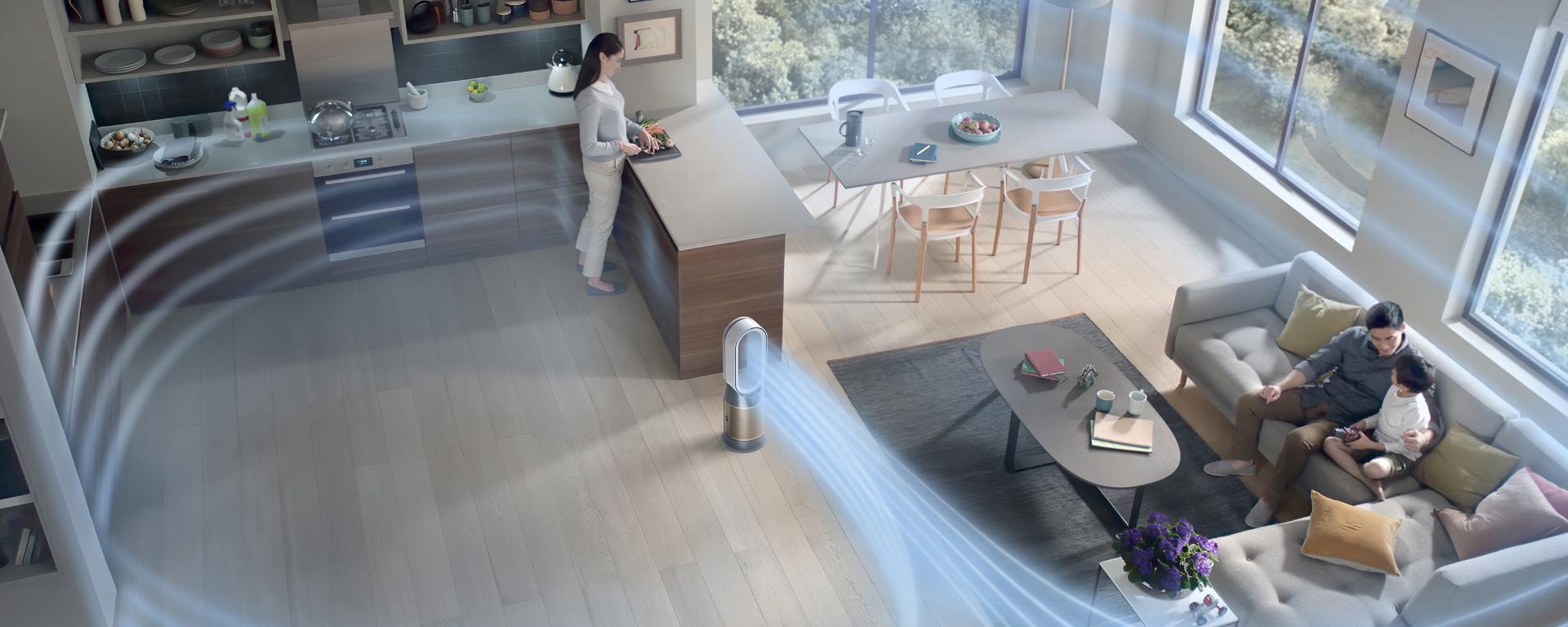 Air purifiers and purifier filter technology
Dust, pollutants, allergens and odours can be released inside your home by common indoor objects. Sprays, stoves and plants all affect indoor air quality, as well as pets. Our range of Dyson air purifiers improve indoor air quality by projecting purified air throughout the room.
Dyson air purifiers

Dyson purifiers capture common pollutants that affect air quality, such as formaldehyde, nitrogen dioxide, benzene and VOCs found inside your home. Through advanced HEPA filtration, our air purifiers remove 99.95% of particles as small as 0.1 microns1.

Purified indoor spaces offer important health benefits – especially for those who experience allergies. Our air purifiers capture common allergens like pet hair and dust, trapping them within the filter.

Discover our range of heating, cooling and pollutant removing purifiers – including our latest air purifier technology that detects and destroys formaldehyde2.

Dyson purifier filters

Our air purifier filters are developed by the same engineers who make Dyson machines. Made from borosilicate microfibres, our sealed Dyson air filters are designed to capture and trap particles as small as bacteria.

To ensure the air we breath is clean, our filters are sealed to HEPA H13 standard3, capturing 99.95% of particles as small as 0.1 microns.1

And our latest air purifier filter is able to achieve precise formaldehyde sensing and removal. The Selective Catalytic Oxidisation (SCO) filter is able to destroy formaldehyde – a common pollutant found in building materials and furniture – at a molecular level2.
What is a HEPA filter?
While awareness of HEPA filtration continues to rise in a post-pandemic world, what it is and how it functions still causes confusion for many. Ahead, Lead Engineer Ben Lowson helps to break down how this high standard filtration works alongside how a HEPA filter benefits health.
Frequently asked questions
Yes. Our activated carbon filters capture and trap pollutants that cause odour in indoors environments.
HEPA stands for High-Efficiency Particulate Air. This filter can trap particles – as small as 0.1 microns. All Dyson purifiers have HEPA filters to capture 99.95% of allergens and pollutants.1
Dyson Purifiers heat or cool with purified air. They project a powerful airflow to heat or cool like most Dyson fans or heaters, but they also capture dust and allergens, removing 99.95% of particles as small as 0.1 microns1
1Tested for filtration efficiency at 0.1 microns (EN1822, ISO29463).
2Third party full machine testing based on GB/T 18801-2015 formaldehyde cumulative clean mass testing with continuous injection until plateau of formaldehyde CADR is achieved. Results may vary in practice.
3Particle challenge by DEHS oil specified in EN1822 within a chamber specified in ASTM F3150. Tested in Max Mode at IBR US, for whole machine efficiency above 99.95%.